Coto de Gomariz uses only autochthonous varieties of grapes.
The winery started at the beginning of the 70's adopting more traditional style wines from Ribeiro to produce more authentic wine, following a clear path to quality and authenticity towards autochthonous varieties like Treixadura or Sousón, which had been pushed aside throughout history to make way for international varieties that were more productive and less prone to disease.
The varieties in an Atlantic location, group to which the ancestral grapes of Galicia belong to, show characteristics that are often common to the wild vines; small bunches of grapes, highly fertile and potential for an intense aroma.
Varieties
Whites
The white varieties of grape grown are those that are allowed within the DO Ribeiro: Treixadura, Godello, Albariño, Loureira, Torrontés, Lado and Silveiriña as well as some others that are not mentioned. However, without a doubt, the most important grape used in our production is the Treixadura.
WHITE GRAPES
It is the noble grape of excellence in the Ribeiro.
The first historical reference of this grape dates back to the 18th Century, although its great variability suggests that it was used even before. Its origin shows in the fact that it is capable of expressing its qualities on dry, sunny banks; this variety is, without a doubt, a result of the sort after quality. Treixadura finds in the Ribeiro its ideal habitat given that it is a late shooting and late ripening grape, very sensitive to altitude where it wouldn't ripen properly at all. You can find it also in the base of the toasted wines of Ribeiro, the most famous wines of the region. The bunches of grapes are small-medium, they are formed by round berries tightly grown. When ripe, the grapes take on beautiful golden tones with violet highlights.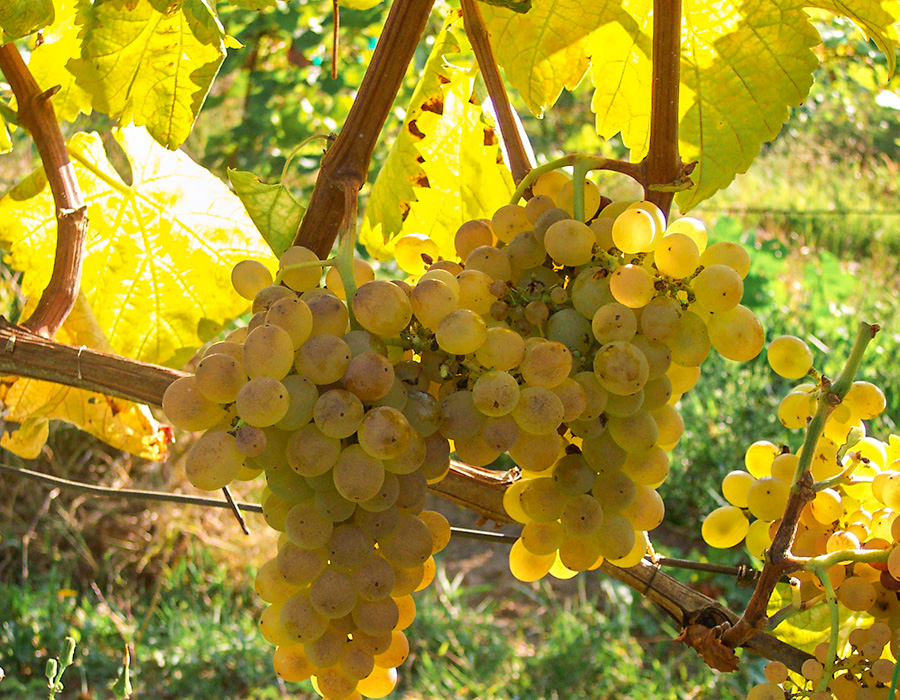 The skin is thick and relatively hard – reason for its name – something that contributes to saving against the grey rot that happens in the grapes (Botrytis Cinerea). As a grape that produces wines of great quality, they are sufficiently alcoholic (between 12 and 13,5º), with notable acidity, making us believe that it is robust on the outside, but surprisingly generating subtle and delicate aromas of elegant and complex flowers and fruits when we get into it.
This harmonious balance between the robust structure and the delicate expression, justify its position as the middle rock that holds up any varietal combination that comes out of Ribeiro and also allows to make long-lasting wines.
VARIETIES
RED GRAPES
The red varieties that are used are the ones permitted within the DO Ribeiro: Sousón, Brancellao, Mencia, Caiño Longo and Ferrol. For us, the main one is Sousón.
SOUSÓN
This grape variety is on trend in Galicia and Northern Portugal, being to date the most cultivated in Gomariz with huge polyphenol potential. It's usually found as a base in various different proportions for creating interesting, different and peculiar wines. We've been using it since the year 2000 – it's always been the star of the coupage and since 2011, also as a single variety.
Agriculturally, this plant is slow growing and resistant to drought allowing it to adapt well to lose soils. The fertility rate is average and it has a low production of around 8 to 11 Tonnes per Hectare. It's new shoots appear later than most and the ripening cycle is long meaning that it is well-suited to zones that are known for late ripening. It is sensitive to Mildew and Botrytis but more resistant to Oidium.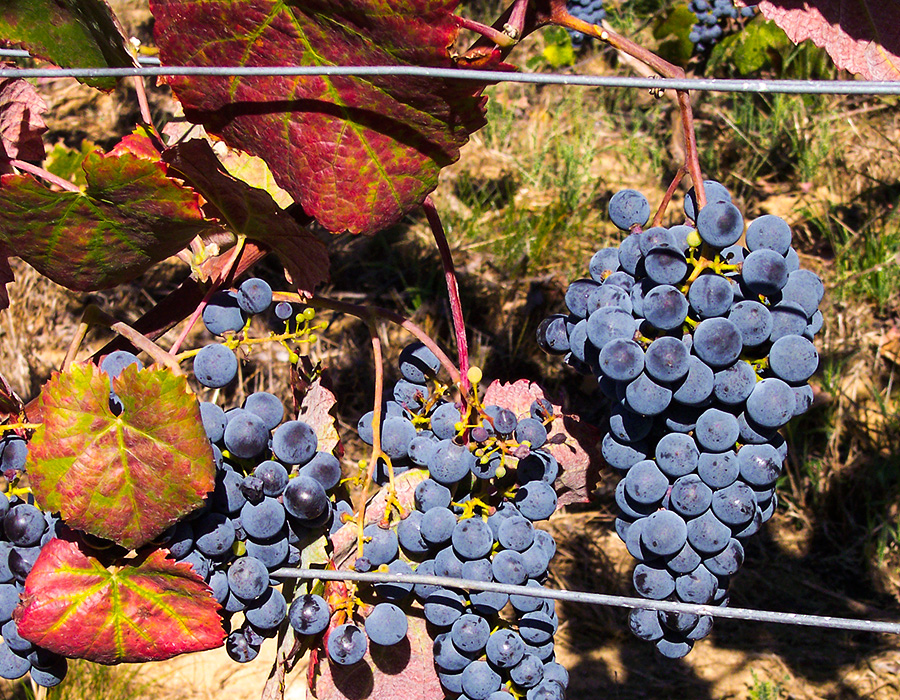 Higher or lower ripening levels are needed depending on the style of wine wanting to be produced and to avoid herbaceous notes in the long maceration period this grape is good for.
The wines can reach alcoholic levels of between 12,5 to 14º, conserving the total acidity of around 6-8 g/L expressed in tartaric acid. But, its most representative characteristic is its high concentrated level of polyphenols that give excellent structure and intense colour to the wine. From an aromatic point of view, there is a lot of dark fruit like blackberry and cassis berries – all moderate intensity.
The wines evolve very well over time and are excellent for ageing in wood.