Terroir
PLOTS
The plots of land are vinified separately to be able to observe the evolution of the grapes and respect the characteristics of the different estates that make up the personality of each of the vines.
O FIGUEIRAL
In the year 1978 ricardo Carreiro and his wife María Álvarez recuperated what is today the first of the estates of Coto de Gomariz: Finca O Figueiral, where the first steps were taken to recuperating autochthonous varieties of the Ribeiro.
Since replanting in O Figueiral, Coto de Gomariz was born. . After they began the restauration of the other plots of old vines also property of the Carreiro family for generations, with the intention to start a winery.
"O Figueiral" is a 3Ha plot in Barro de Gomariz, neighbour to other vines in the family. However, this particular plot has a unique set of characteristics in the soils (deepness and composition) that give the wines a superlative quality and acidity with a low pH – all important for giving the wine a long life.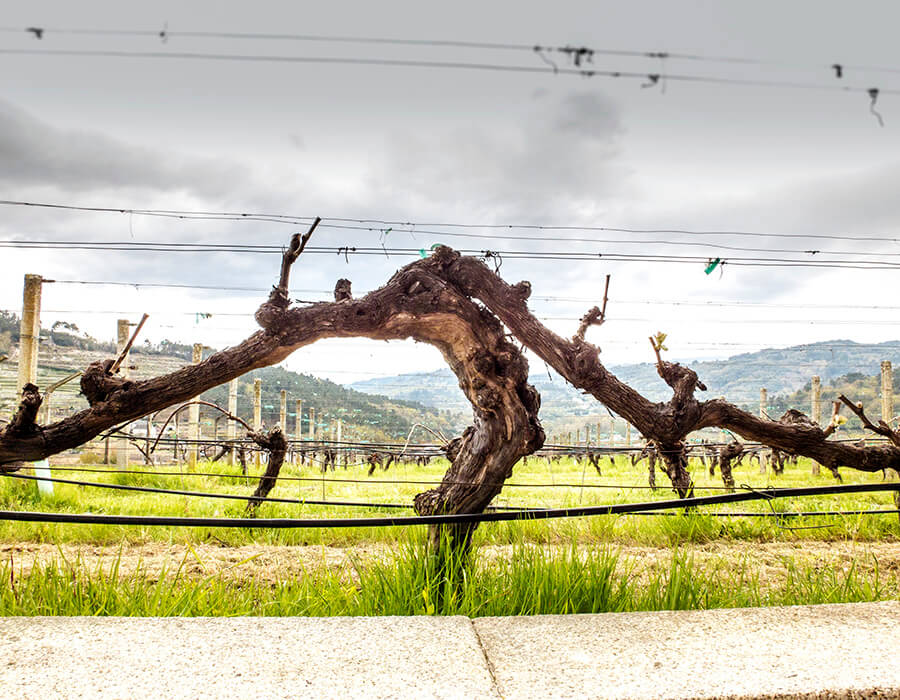 This plot is multi-varietal, this was normal years ago, the principal varieties being white and always autochthonous: Treixadura, Lado, Godello, Albariño, Dona Blanca, Torrontés, Silveiriña, Loureira and a few others. At least 12 varieties have been identified.
Caco was a visionary back then, foreseeing the destination of Ribeiro in Galician autochthonous varieties that were unfortunately pushed aside to make way for more productive ones and ones that were less delicate and prone to disease. For example Palomino and a hybrid: Garnacha Tintorera (Alicante Bouchet).
The soils are mainly clay with subsoils of shale.
This plot produces the grapes that are the base for the Coto de Gomariz, the iconic white wine of Ribeiro and the Coto de Gomariz Colleita Seleccionada Finca O Figueiral limited production of 3.300 bottles of 750ml and 50 magnum bottles.
The history of this plot goes back to at least the 17th Century, something we've proved by going through old archives in the Abbey of Gomariz in a historical study that was conducted by experts some years ago.
PROPERTY OF THE WINERY
OTHER PLOTS
Also historical and mentioned in old documents, other properties of the winery are:
In Gomariz:
Old vines: A Fonte, Préstimo, Viña Grande, Lavandeira, A Cerrada, Lama de Barco, Barreiro, Forcada, Pena de Barra, O Campo, Tega Do Sal, Vilerma, As Travesas, Viña de Ramón and A Carreira.
Plots that have been planted or restructured by the new generations in Gomariz, between the years 2000 and 2003: As Penelas (1Ha), O Taboleiro (almost 6Ha), A Taina, A Ferreira, Canceliña.
Other plots in other towns of Ribeiro are Beade, Vieite, in San Cristóbal (Ribadavia): A Xarmenta of 1Ha and in Banga: Pazo Lodeiro. 3Ha.